The last flight-operational S-3B Viking reached its final destination at Gillespie Field Tuesday, near the San Diego Air and Space Museum annex in El Cajon. After performing a final touch-and-go, the plane landed at the rural airfield for the last time after nearly half a century of service.
A Navy workhorse that was originally designed for anti-submarine warfare during the cold war and then reconfigured with updated systems in the 1990s, the Vikings were last used by the Navy as a refueling plane.
Retired from active service in 2009, some were stripped out and given to the National Aeronautics and Space Administration to be used as flight research planes.
This particular S-3B, the last one from that group of research planes still in service with NASA, will now be used for educational purposes by the San Diego Air and Space museum.
Glenn Research Center Chief Pilot and Chief of Aircraft Operations James Demers, who piloted the plane to Gillespie Field along with Aviation Safety Program Manager Al Micklewright said it was initially slated for retirement back in 2015 but was extended prior to the COVID-19 pandemic, then further extended as the pandemic slowed everything down, including moving forward with plans to retire the plane.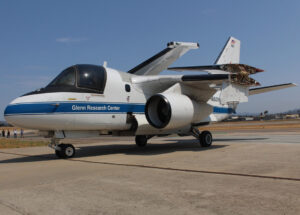 Although the Viking has been in service for many years, he said "it's not about the plane, it's about the project," and that he is ready to see the plane retired and move on to the next project.
This particular plane, he said, was used at the research center for assessing new systems' Technology Readiness Levels seven, eight and nine in a functional setting: verifying that a working model or prototype works up in the air as well as it does when tested alongside other components in a lab setting.
"At that level, I'm getting it up into the environment and showing a model can work as intended," Demers said.
However, to get those models up in the air for testing, the research plane being utilized has to be functional. In the case of the S-3B Viking, there comes a point where it is more expensive to source repair parts, as well as the systems used to test components, Micklewright said, than retire the aircraft entirely.
"JD and I were just commenting on how it passed a Functional Check Flight after 15 months of not flying, then flew perfectly out here," Micklewright said.
This plane, he said, "didn't actually get a lot of fleet hours" with NASA but, like the Space Shuttle, is part of an aging fleet that is due to see several planes retire.
NASA Engineering Project Manager Iovanka Todt, who is part of a volunteer team restoring a Viking for the Midway Museum in San Diego said she and her team can often find the parts needed, but that doesn't mean they are flight-operational.
"We go on the hunt, sometimes find parts at other museums, sometimes we can find them online if they're not Classified, some can be 3-D printed or made from molds," Todt said.
She was waiting in line for a chance to climb into the plane that had its wings folded for the first time in years to take photos and "compare what is on this functional plane with what we have" on the Midway Museum piece that is being restored.
Nearby, 13-year old Landon Thomas Sloan proudly said his dad had worked on a Viking.
"My dad, he worked on the same kind of airplane, he told me about the bombs and the ejection seat, told me about everything," Landon said.
Although he does not plan to be a pilot and instead wants to be a meteorologist so he "can warn people and save them," he said just being around all the pilots was "pretty awesome."



function QRC_WOOCON(){var qr = window.qr = new QRious({
element: document.getElementById("QRC_Com_COntent"),
size: 100,
value: "https://eccalifornian.com/historic-viking-settles-in-at-gillespie-field/"
});
jQuery("#download_QRC_con").click(function() {
download(jQuery("#QRC_Com_COntent").attr("src"),"Historic Viking settles in at Gillespie field.png","image/png");
});}QRC_WOOCON();
Source: East County Californian