Remembering the game boards that were played with friends and family growing up, there is now a place to go and play or rent these games, along with some of the most popular role-playing games in the market, past and present. With Fiasco Fridays, Keyforge and Captain Sonar League Sundays, Off the Shelf Games celebrated all things board games and role-playing games at its grand opening in Parkway Plaza on Dec. 9, also celebrating the business's second anniversary. The gaming lounge first opened in December 2019 on Rea Avenue in El Cajon at the beginning of the pandemic but found a new home at Parkway Plaza. It was a  change that owner Jerry Horning said was a perfect fit for the family-owned business, creating a gaming lounge for people of all ages to come in and play their favorite RPGs and board games, and maybe finding some new favorites.
The gaming lounge is a game-loving family effort, with Horning and his wife Joanne co-owning the store, with help from their daughter and son. Horning said his 17-year old daughter works as the social media manager and that his 13-year-old son works where he can help in the store as they are both still in school.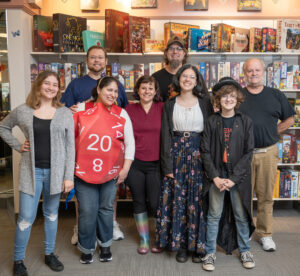 "We survived COVID and were able to relocate to this location," he said. "This is a much better location for us. We are a board game lounge. We are more than just a store. We have a small retail section, but we do not focus on retail. Our focus is creating a space for people to come out and play board games and role-playing games, creating connections and relationships."
Horning said Dungeons and Dragons is by far still the most popular role-playing game that is playing right now in the store. He said with board games, there are many popular games that people come in to play.
"We have more than 1,200 board games in our library," he said. "There are many RPG games that people like to play like Fiasco, Dread, Pathfinder, Savage Worlds.
Horning said with its diverse collection of board games, people may choose to rent a game, or either stay and play. He said that due to the ongoing pandemic, table reservations are recommended so it may keep up with COVID-19 protocols in place.
Parkway Plaza Marketing and Business Development Manager Petra Rich said the main purpose of the store is to provide a safe and comfortable space for people and families spend time together and play their favorite games. Rich said Parkway Plaza is a destination for local small businesses and that with this it has a unique offering for shopping in East County.
"The board game community is extremely unique, and they are very serious about the games they play so they get very involved," she said. "It has specific rooms dedicated to certain types of games, so it is really cool."
Rich said Jerry Horning is a native San Diegan, loves playing board games and was inspired to create this space.
"Through his love of board games and RPGs and wanting to make sure people have a space to do that," she said. "They have family game nights. It was really important to them to create this space for families and individuals to come together and bring back the nostalgia in playing board games as so many people play digital games today. Board games are such a unique and fun experience. We are really pleased to have it here at Parkway. It is such a unique experience."
Rich said the grand opening was a great turnout that happened on a rainy Thursday before store hours, and that the East County Chamber came and they were presented several certificates from local and state officials, welcoming the small family owned business to El Cajon.
For more information visit www.offtheshelfgames.com.



function QRC_WOOCON(){var qr = window.qr = new QRious({
element: document.getElementById("QRC_Com_COntent"),
size: 100,
value: "https://eccalifornian.com/el-cajon-gaming-lounge-celebrates-new-venue-at-parkway-plaza/"
});
jQuery("#download_QRC_con").click(function() {
download(jQuery("#QRC_Com_COntent").attr("src"),"El Cajon gaming lounge celebrates new venue at Parkway Plaza.png","image/png");
});}QRC_WOOCON();
Source: East County Californian